Get your cameras out or start pecking away at your key board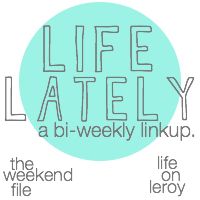 Don't know what Life Lately is all about? Click on the button and it'll take you to a full description, but if you're more into the bare minimum description here it is:
On your blog, write a post/post photos of
your life
in the past
few days or weeks.
Then, head
right here
on
January 21
and add your link to the party!
That's it!
It really isn't anything too fancy, just a post about life in your neck of the woods. It is, however, very fun to read what everyone is into these days and even make some blogger friends while you're at it!
Be sure to join us here for a link-up party on the 21st!
Don't worry--I'll remind you again :)