Ahhh! Its finally here!
I've missed you!
This weekend is shaping up to be busy one here at our place. We have good friends over last night for game and were up later than usual. Hubs has class at The Academy of Biblical and Theological Studies here in Charleston, Granny's birthday celebration is today, we're helping my Dad out with a little surprise, and I'm heading to my mom's this morning to work on some crafties for E's birthday party. Tomorrow is church, a meeting, and then the Super Bowl! Not much down time, but we are SO looking forward to being together as a family over the next few days and spending time with people we love.
Have you ever heard of
Six Sisters' Stuff
?? I just found it this week, and I am really enjoying it! The recipes on there look delicious and my Pinterest is full of them :) Anyway, today I'm linking up my "Welcome the Love" post from Wednesday at their Strut Your Stuff Saturday linky party. Head on over there to check out all the great crafts, recipes, etc.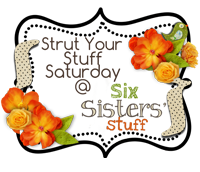 I hope you are able to enjoy some rest time this weekend!
Thanks for stopping by today! Be sure to drop in sometime next week to see what else is happening here. Who knows--you may get to take a peek at some of the crafts I'm getting together today for our little birthday gathering next month!
Happy Weekending!