Will you go on a journey with me?
Throughout the month of October, I am planning to accompany
The Nester
on her annual 31 days of blogging adventure. Basically, I'll be writing on one topic each day during the month of October. What's my topic you might ask?
I'll be taking the next 31 days to write daily about the happenings in my life as a child of God, wife, mother, daughter, sister, and friend.
My life really isn't that exciting (now you really want to read each day, right?) so don't get your hopes up too high. Honestly, there are days that I feel like I am living Groundhog Day. My goal is not to impress you with the amazing things in my life, but rather to let you know that you aren't the only one living in the mundane, the mess, and the ordinary times.
Often times I feel alone in this crazy ride of life because of the season I am in right now...stay-at-home-Momma to a 2 years old and infant. Life consists mostly of keeping kids fed and alive while desperately trying to make sure we all have clean clothes to wear. Some days we never leave the house and others are filled with activities that leave us all exhausted (especially me)!
Life in our 2nd floor apartment, in an urban neighborhood in the tiny city of Charleston. That's what these next 31 days will hold. It will be a challenge for me to even post every day, so I hope I can keep up!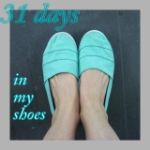 I hope you'll come along with me on this little journey through the next few weeks. I can't promise excitement, but I can promise to share the honest, true, raw happenings of our days. And hopefully you'll be encouraged in your season of life as you laugh along with me as I learn to be thankful for each day...even the ones where my coffee gets left un-drunk until 3:00 pm! :)