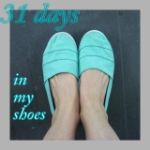 The entire house smelled of apples when I awoke yesterday morning! The cool morning couldn't have felt any more like fall with the scent of apple butter wafting through the apartment.
Good thing the morning started off pretty well too because my baby--Baby G--had been sleeping until 7(ish) each morning for the last week but decided on to get up early Wednesday around 3 and again around 6...growth spurt? I sure hope so!
The Hubs had another early day at the office. Every Wednesday is an early day so that he is able to get off early in time to watch Baby G while I take Little E to ballet class. Its really nice having him home early, but not so nice having him leave early in the morning...especially after a super long day on Tuesday.
Typically Wednesdays are busy days for us. Library story time is at 10:00 and by the time we get home its time for lunch and nap...then the kiddos wake up and we head off to ballet. This Wednesday wasn't any different...well, maybe just a little different.
Since it was so beautiful outside, we decided to walk downtown to the library. A straight shot from our apartment, but over a mile down the road. Takes about 25 minutes to walk it--which I don't really mind. We were running behind (mostly because I couldn't decide if I
really
wanted to go or not) and we started our walk a little late. We were a few blocks from the library when I heard the shelter-in-place siren (we live near several large chemical plants...in case you are unsure of what I am talking about
check this out
). The siren gets tested every Wednesday at noon, so I was a little confused when it went off right before 10:00. We got to the library about 2 minutes after 10:00 and there were large orange signs on the door and the doors were locked. Sure enough, there was a
real
shelter-in-place that had been issued and we weren't aware. Thankfully, my mom's office is directly across the street from the library so we headed of there for a visit and a snack. They lifted the shelter-in-place just after story time was over--figures. Basically, we walked all the way there to
completely miss
story time! Sheesh!
Oh well! It was a nice morning walk!
We went home, washed diapers, had lunch, and the kiddos napped. I desperately wanted a nap, but since we were preparing to leave town on Thursday I didn't really have time once Baby G got to sleep. It was time for me to pack and prep for the evening ahead which consisted of ballet class, dinner, and a birthday party!
Wednesdays are definitely the busiest day of the week for us--at least most weeks! It is fun to have a day that we know if full of activities to enjoy, but it can also be tiring.