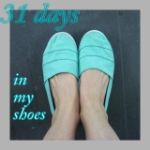 Since this morning I am writing about yesterday (Wednesday) which was technically day 25 should I re-title this post? I figure I'll just leave it as day 26.
So, Wednesday has come and gone.
It wasn't a very exciting day.
We got up and Hubs went off to work, as usual. G-man woke up to nurse around 6:30 and then went back to bed. Actually, both the kiddies stayed asleep/in bed until around 9:30! So not the norm! I enjoyed the extra quiet in the house and got a few things done before they got up. It was a cold, rainy morning (much like today) and that made me just want to crawl back into bed under warm, cozy covers. But, I refrained, and managed to get laundry done and some things organized (from when we rearranged the house...its a work in progress).
When Little-Lady E woke up, she had a stuffy nose and just didn't feel like herself. All she wanted do was lay on the couch and watch Cinderella. Honestly, days like that don't come often so I let her. She lazed around all day. She even told me that she didn't want to go to ballet class...which is not at all normal.
G-man had a good day too. He took a nice long nap in the morning (about 2.5 hours). I think both of them were completely worn out from the previous day's activities. We didn't leave the house all day.
Hubs came home around 3:00 and we skipped ballet. It was nice to have the afternoon free. He studied because he was leading prayer meeting that night. I heated some soup from the freezer and made some bread for dinner. Perfect for the chilly evening we had. Then we packed everyone up and headed to the church for prayer meeting.
We made it home around 8:45, got the kiddies in their PJ's, and had a snack. E had some cheese puffs but we (the adults) waited until she went to bed and indulged in some ice cream. :)
It was a pretty low-key day, but a much needed day of rest (especially for Little E).
Today looks like another cold, rainy day. Only difference is that I have things I have to do...meaning we have to leave the house in this mess. Our farmer's market is having their annual trick-or-treat tonight, so we are hoping to go to that and finish packing for our little weekend trip to see my sister and her family.
See you back here tomorrow for Fun Friday and an update on how our Thursday went.