Its October. Really? October?!?
Where in the world does time go?
Since it is October 1, that means it is time for the first post (other than the
intro post
...which counts as day 1) of my 31 days series,
In My Shoes
.
Life--in my shoes.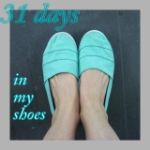 Yesterday was one of those days. Summed up by the following FaceBook update:
Baby G-Man wins the "fussy baby" award for today...its nearly afternoon coffee time and morning coffee still sits in the half full mug. Shew!
Baby G-Man fussed basically the entire day only taking a break from fussing to nurse and nap (for all of an hour while he was in the Moby wrap). That, alone, was enough to make me go crazy! The enormous amount of laundry that needed done didn't help the situation. I had really gotten behind on laundry, so I had a lot that needed done. Thanks to my mom coming over on her lunch break to entertain the kiddos for a bit, I was able to get all the laundry done.
Funny thing with laundry though, once you get it done, you realize the clothes you are wearing will be in the hamper in a few hours...never-ending cycle. Oh well! At least its "caught up".
Nothing too exciting took place during the afternoon. Just reading books on our front porch balcony. Oh, there was that exciting moment when Little E threw Baby G's pacifier over the edge of the balcony and we had to go down to the yard and look through the flower bed to find it.
We are deciding on paint colors for our bedroom which is currently the living room. We're changing it up and rearranging the rooms a bit. It'll be a process, so its slowly coming along. I think we (rather, I) decided I liked these colors:
It is currently the light blue color. We're going with a purple (kind of grey undertones) with a grey accent wall. It is really pretty and clean with the white wood work. Really excited to see it all painted and our bedroom moved into that room! I'm hoping for a calm, intimate effect.
The Hubs made it home from work and we had our dinner, went shopping for a birthday present, gave baths, watched Andy Griffith, and ate Oreos--our "go-to" snack since its dairy free and I don't have to bake it. Our landlords/downstairs neighbors/friends came up for a visit and to check out the paint colors. Kids went to bed and so did we! After a day full of noise, this introvert was ready for silence, so Hubs and I didn't get to talk much before going to sleep. My ears needed a rest...and so did my brain.
Despite the fussy day, Baby G slept well last night and I had to wake him at 6:30 to nurse him...woohoo! SO thankful for a good night of sleep!!