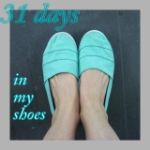 Another week has begun as another Sunday comes to a close. Its hard to believe we are ending this month and the end of this challenge to write for 31 days!
Sundays always seem to be packed days for our family. Even when we try to leave them open, they get packed full of things easily. Probably because the bulk of the morning is spent at church worshipping and enjoying the gathering with our amazing church community.
Today was no different.
Little E ended up having a slumber party with her Cisa (my mom) last night, so we got up this morning with only one child in our home. You'd think that would make it easier, but it really didn't. We still had to gather things for E since her sleep over was spur-of-the-moment and she didn't have a change of clothes. We ran her things to Mom's house and got her ready there before heading over to the church.
It was a special day for our family at church because Hubs was officially put before the church and installed as an elder. We were asked to come forward to receive a challenge and so that the other elders could pray over us. It was a sweet time and the fact that the majority of Hubs' family was there to witness it made it even sweeter!
After church, we brought the kiddies home and my mom and I went for a run. It was a gorgeous afternoon (sunny and 60's) for it! I had been wanting to go to a local park to run, but didn't feel safe going alone. It was fun to have a running buddy to chat with too (Hi Mom!).
The rest of the afternoon was spent doing a little cleaning and I even got a chance to sit with a cup of autumn spice tea and read--all alone. Wow! That is rare! So blessed by that 10-15 minute span of time to myself.
This evening we celebrated a friend's birthday with a little party at their home. The food was great, as was the time with friends. Honestly though, my favorite part would have to be the Reese's peanut butter cup cheesecake! WHAT!?! It might not seem like a big deal to you, but I don't ever make desserts that contain dairy since I am the only one who can eat it. Cheesecake is a favorite of mine but I rarely have it. I savored every bite of that cheesecake tonight. Yum!
Once we got Little E to bed, our neighbors/landlords/friends came up for a few minutes. We spent some time talking and praying. I just love the body that God has placed us in. SO wonderful to live in this type of community.
Now, its off to bed!
But first-- here is a preview of our latest family photo shoot! We finally got the pictures last night and I want to share a few with you!!